I signed up for another Goodreads Challenge this year. I realize that I totally fell off the wagon updating the blog last year, and didn't post anything beyond the first set of books. See
My Goodreads Challenge Part One
here.
I didn't officially meet the goal of 12 books in 12 months, I only managed to complete 11 by December 31. However, I was mid-book when the year changed, and finished my 12th book by the first week of January, so in my head, it counts.(I have the opposite rule in my head about calories consumed on a Friday night - they don't count. I should do a post sometime about the rules in my head...imagine what life would be like then...)
So without further ado, these were the rest of my books for the Goodreads Challenge for 2014:
From the back cover:
Throughout her career, Cameron Diaz has been a role model for millions of women. By her own admission, though, this fit, athletic star wasn't always as health-conscious as she is today. Her consumption of bad foods had an effect on her skin and her body. "If you are what you eat," she says, "I was a bean burrito with extra cheese and extra sauce, no onions." Learning about the inseparable link between nutrition and health was just one of the life-changing lessons that sparked Cameron's passion to explore the best ways to care for her body. In The Body Book, she shares the knowledge she's gained both from personal experience and from consulting with health experts.
Cameron Diaz offers some insight on her eating and exercise habits. As a former model you sort of have to take it with a grain of salt. There are chapters in here that are clearly written by someone else, with a few of Cameron's interjections to make it seem more like her. But whatevs, I didn't hate it. I ended up liking her more. Except wtf is up with her face on this cover? It doesn't even look like her. She's gorgeous without the photoshopping. Just stop it.
From the back cover:
Eight-year-old Sophie Donohue just wanted to be like every other little girl. Which is why her mother, Janine, reluctantly agreed to let her go on the weekend camping trip with her Brownie troop. But when Janine arrives to pick up Sophie after the trip, her daughter is not among the others. Somehow, along the forested route from West Virginia, Sophie has disappeared.
I haven't read a mystery in a while, so this was a change for me, to put down the book and think about what possibly could be going on. The subject matter was a little disturbing, the thought of losing one of my own children is gut-wrenching, let alone losing a sick child. It's the stuff of nightmares, but I worked through it and finished it with relief.
From the back cover:
Marian Caldwell is a thirty-six year old television producer, living her dream in New York City. With a fulfilling career and satisfying relationship, she has convinced everyone, including herself, that her life is just as she wants it to be. But one night, Marian answers a knock on the door . . . only to find Kirby Rose, an eighteen-year-old girl with a key to a past that Marian thought she had sealed off forever. From the moment Kirby appears on her doorstep, Marian's perfectly constructed world—and her very identity—will be shaken to its core, resurrecting ghosts and memories of a passionate young love affair that threaten everything that has come to define her.
I loved this author, I've read pretty much everything she's written, so adding this to the list was a no-brainer. Her characters are realistically flawed and make the kind of selfish decisions that normal people make, which is nice. An easy and enjoyable read.
From the back cover:
Time is out of joint. The summer of peace and plenty, ten years long, is drawing to a close, and the harsh, chill winter approaches like an angry beast. Two great leaders—Lord Eddard Stark and Robert Baratheon;who held sway over an age of enforced peace are dead...victims of royal treachery. Now, from the ancient citadel of Dragonstone to the forbidding shores of Winterfell, chaos reigns, as pretenders to the Iron Throne of the Seven Kingdoms prepare to stake their claims through tempest, turmoil, and war.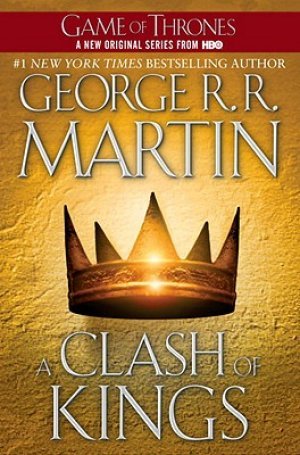 I love the show, and I love the books. Enough said. Except I'll add that when I read Tyrion's lines in the book, I say them with Peter Dinklage's tone, accent and inflection. Just for some extra fun.
From the back cover:
The year is 1945. Claire Randall, a former combat nurse, is just back from the war and reunited with her husband on a second honeymoon when she walks through a standing stone in one of the ancient circles that dot the British Isles. Suddenly she is a Sassenach—an "outlander"—in a Scotland torn by war and raiding border clans in the year of Our Lord...1743.
This series is huge, not only in sheer size of the novels themselves, but the fact she has written at least a dozen books for the series...there is novellas, graphic novels and prequels that added to the mix and some were written out of order. The whole thing is very complex. And popular. I found this book really addictive and I started the next one as soon as I finished this one.
From the back cover:
For twenty years Claire Randall has kept her secrets. But now she is returning with her grown daughter to Scotland's majestic mist-shrouded hills. Here Claire plans to reveal a truth as stunning as the events that gave it birth: about the mystery of an ancient circle of standing stones ... about a love that transcends the boundaries of time ... and about James Fraser, a Scottish warrior whose gallantry once drew a young Claire from the security of her century to the dangers of his....
Another one that I devoured...I'm not going to say quickly because this is no light read. It's more of the same, but when the formula works, it works. The heroine is spunky and the hero is a Scottish hunk. What else do you need?
Diana Gabaldon - Voyager
From the back cover:
Their passionate encounter happened long ago by whatever measurement Claire Randall took. Two decades before, she had traveled back in time and into the arms of a gallant eighteenth-century Scot named Jamie Fraser. Then she returned to her own century to bear his child, believing him dead in the tragic battle of Culloden. Yet his memory has never lessened its hold on her... and her body still cries out for him in her dreams.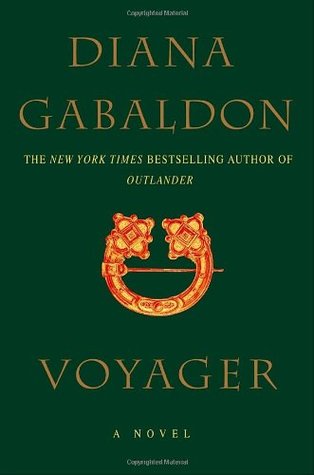 Ugh. Ok. I'm getting to the point now where its getting to be a little lame. Her body still cries out for him in her dreams? I still read this, but come on. I like a romantic novel as much as the next girl, but let's be realistic here. Oh wait. This whole story is based on time travel through rocks...
From the back cover:
Professional, experienced contract burglar. It's not exactly something you can put on a business card. Molly Miranda has made a successful living from "acquiring" valuables and delivering them to clients who pay buckets of cash for her unique services. So what if she has to lie about her lavish lifestyle in Manhattan and her frequent trips out of the country? Molly has everything under control. Things go astray when she knocks boots with her charming roommate right before taking off to Scotland with an untrustworthy wildcard on a job assignment that doesn't go quite as planned. It doesn't help that this new partner-in-crime is super annoying. And attractive… Join Molly on her hilarious adventures as she dodges bullets, trespasses, wears disguises, and steals her way into trouble.
This was a breath of fresh air after the all the ripped bodices and heaving busoms from the past three books (see above). Oh, women can make decisions that are based on something other than a man? The main storyline isn't about love? Blasphemy. I loved the character, she was a strong female, who took zero bullshit and put work before her dating life. Loved it.
And the "unofficial" twelfth book of 2014, although it was finished around January 3, 2015 or so....
From the back cover:
What do you do in your teenage years when you realize what your parents taught you wasn't enough? You must go out and find books and poetry and pop songs and bad heroes—and build yourself. It's 1990. Johanna Morrigan, fourteen, has shamed herself so badly on local TV that she decides that there's no point in being Johanna anymore and reinvents herself as Dolly Wilde—fast-talking, hard-drinking gothic hero and full-time Lady Sex Adventurer. She will save her poverty-stricken Bohemian family by becoming a writer—like Jo in Little Women, or the Brontës—but without the dying-young bit.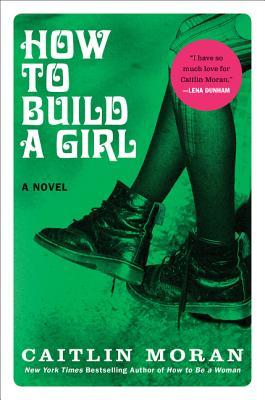 If you've ever heard Caitlin Moran speak, she speaks really fast, and with the British accent, she's on to the next subject before you realize what she just said, and that it's hilarious. Thankfully I can read her words at my own speed. This Johanna/Dolly Wilde chick is wonderful. Her musings, her reasonings, her inner dialogue is just so heartbreaking and funny at the same time. You end up laughing at her pain, but I guess the moral is that if Johanna will be ok in the end, so will we. Great book.
I've already started the 2015 challenge, and have a good start on it already. Does anyone have any good books they would recommend?